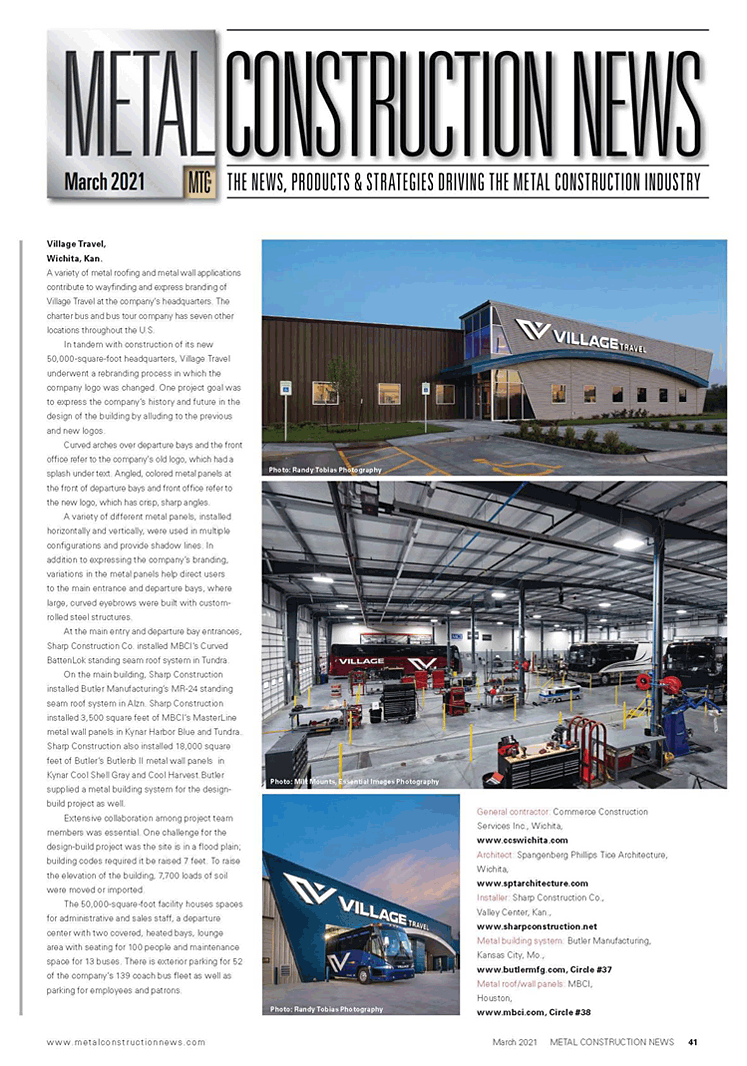 Our project with Village Travel, located at K-96 and Ridge Road, Wichita, Kansas, was profiled in the March 2021 edition of Metal Construction News. Fun Fact – the elevation on this project needed to be raised 7 feet which equated to over 7,500 truckloads of imported or relocated soil. For this growing company, we delivered a 50,000 square foot design build, pre-engineered metal building (PEMB) to house their headquarters. Some of the components within the PEMB include offices for administrative staff, sales and tour planning for all seven locations. The new departure bay has two covered heated bays for loading and a comfortable lounge area that seats up to 100 people. The maintenance area has room for 9 buses in the maintenance / prep area (including four 50′ long, stair accessible mechanical pits), 2 buses in wash bays and 2 buses in the body shop / paint area. There is even a drivers lounge that is open 24/7 with two "hotel" rooms that drivers may utilize to get rest before or after a trip.
The owner, Jeff Arensdorf, had this to say, "From the very early planning stages to the finished building, the construction team performed very well. I've worked with other contractors in Oklahoma City, Tulsa, and Wichita in the past. The experience in working with this particular commercial general contractor was by far the best." Thank you Jeff and your team at Village for allowing Commerce Construction to be a part of your journey.
Have a dream and want to build?  Contact us, we would be delighted to help you bring it to reality.