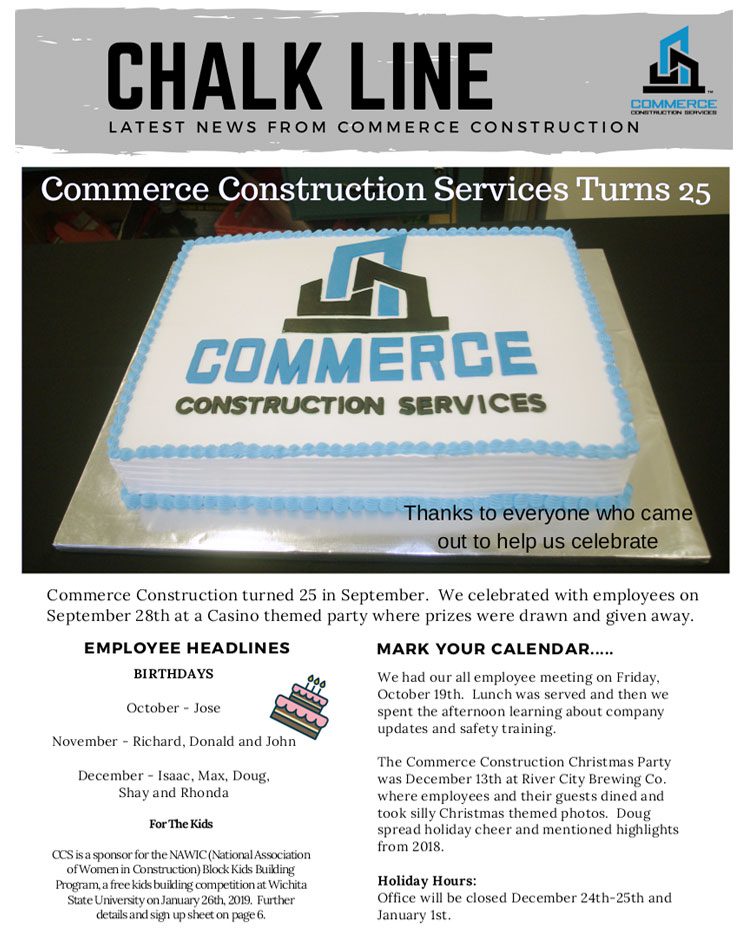 Commerce Construction Services is a mid-sized general contractor based in Wichita, Kansas and we welcome you to our 2018 4th quarter newsletter. It's a great time to be part of the CCS team. There is exciting news happening both personally and professionally for different members of our organization. From kudos for being an awesome teammate to success during the recent deer hunting season, see what is happening in the current edition of the Chalk Line.
You will find in this edition that Commerce Construction is a sponsor of the upcoming NAWIC Block Kids event. It will be held at WSU's Rhatigan Student Center on January 26th.  Take a look at the attached information and sign up form. Block Kids is a great building event for grades 1 through 6.  You also will see our 25th anniversary ad which ran in the Wichita Business Journal.  There are candid photos from both our employee and customer celebrations. Folks were treated to great food and prizes while they helped CCS celebrate 25 years.  Check out project updates and photos, as well as, information on recent AGC and ASHE training.
Do you like the culture you see at CCS. Contact us today to see how you might fit in with the team at Commerce Construction Service. Commerce Construction is a Wichita, Kansas based commercial general contractor with a reputation for being experienced, trustworthy and dependable. We live out our core values of relationships, ethics and teamwork while providing uncompromised service to our clients and professional growth and fulfillment for our employees.