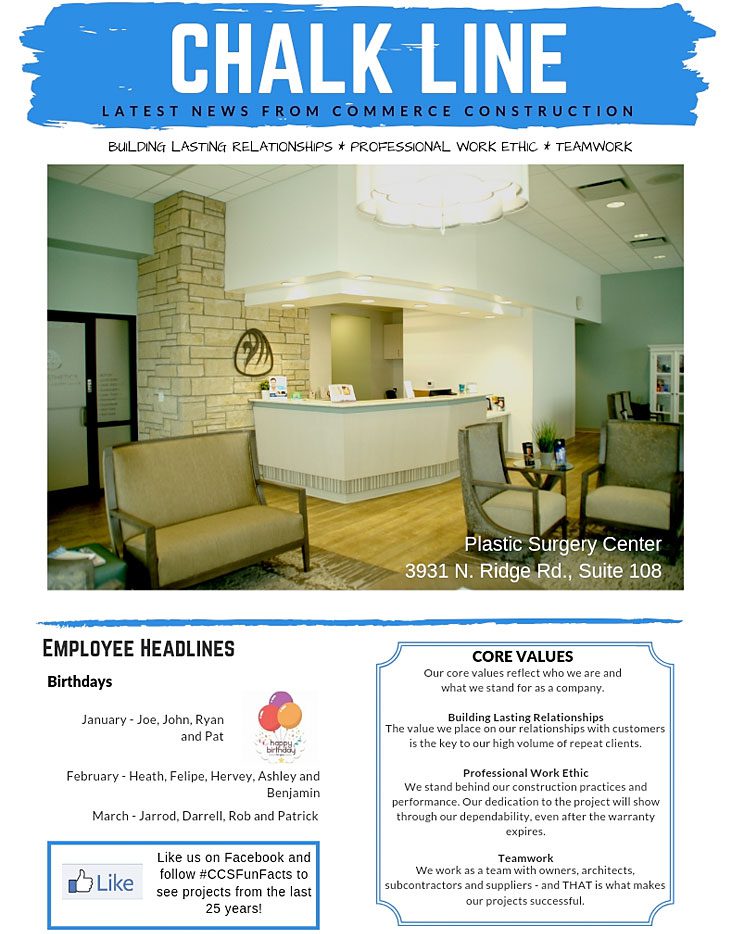 Commerce Construction Services is a mid-sized general contractor based in Wichita, Kansas and we welcome you to our 2019 1st quarter newsletter.  It's a great time to be part of the CCS team. There is exciting news happening both personally and professionally for different members of our organization. From congrats at the Block Kids competition to continuing our 25th celebration, see what is happening in the current edition of the Chalk Line.
What you will find inside this edition is information on upcoming AGC Blue Print Reading. It will be held at the AGC training offices starting April 17th. You also will see exciting things happening for our customers and their clients at both All Angles and MOVE Pediatric Therapy. All Angles partnered with Geico and gifted a refurbished car to a local single mother.  MOVE Pediatric Therapy opened their new location in Northwest Wichita. Look inside to see photos from two employee outings since our last newsletter.
Do you like the culture you see at CCS. Contact us today to see how you might fit in with the team at Commerce Construction Services. Commerce Construction is a Wichita, Kansas based commercial general contractor with a reputation for being experienced, trustworthy, and dependable. We live out our core values of relationships, ethics, and teamwork while providing uncompromised service to our clients and professional growth and fulfillment for our employees.