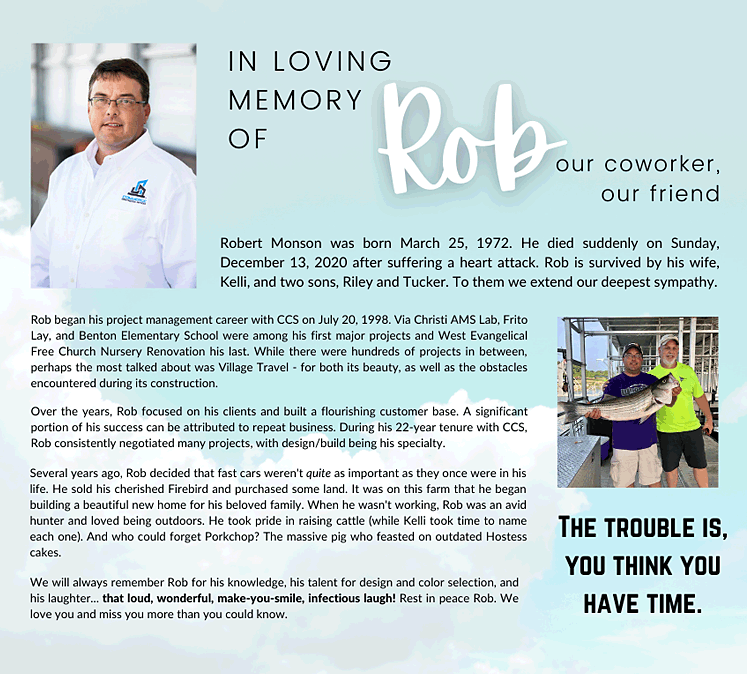 Farewell to Robert (Rob) Wade Monson – Commerce Construction Project Manager, Estimator, Co-Leader, and Friend Robert (Rob) Wade Monson
March 25, 1972 – December 13, 2020
Rob Monson was the son of Roland and Roberta Monson. He married Kelli in 2003 and is also survived by his two sons, Riley and Tucker. Rob developed his love of construction and architecture while in junior high and graduated in 1990 from Goddard High School. During high school, Rob pursued architecture by taking classes at Wichita Vo-Tech (now known as WSU Tech). After high school, he attended Phoenix Institute of Technology in Arizona and graduated at the top of his class with an associate degree in Computer Aided Drafting (CAD).
After college, Rob returned to Wichita and started his career working for Gossen Livingston followed by Spangenberg Phillips where he forged a long and treasured relationship with Randy Phillips. In 1998, Rob began his career working for Doug Henning at Commerce Construction Services, Inc., eventually becoming a partner in 2020. While working at Commerce Construction, Rob continued collaborating with Spangenberg Phillips where he met his future wife, Kelli, whom he married in 2003 and began a family.
During his 22+ years at Commerce Construction, Rob worked on many projects large and small, but by far his favorite projects were when he could collaborate with owners, build lasting relationships, and tap into his creative talents. Because of the enduring relationships that Rob forged over the years, many people reached out to Commerce Construction wanting to honor their friendship and encourage his family. Because of this, and with the family's blessing, Commerce established an account, Monson Memorial Fund, with Equity Bank to provide a way to make contributions that will endure through Rob's children's education and future.
Please continue to remember our dear friend, Rob, and pray for his family and friends as they navigate this unexpected and new path. From the CCS family, we thank you for the outpouring of love and support.