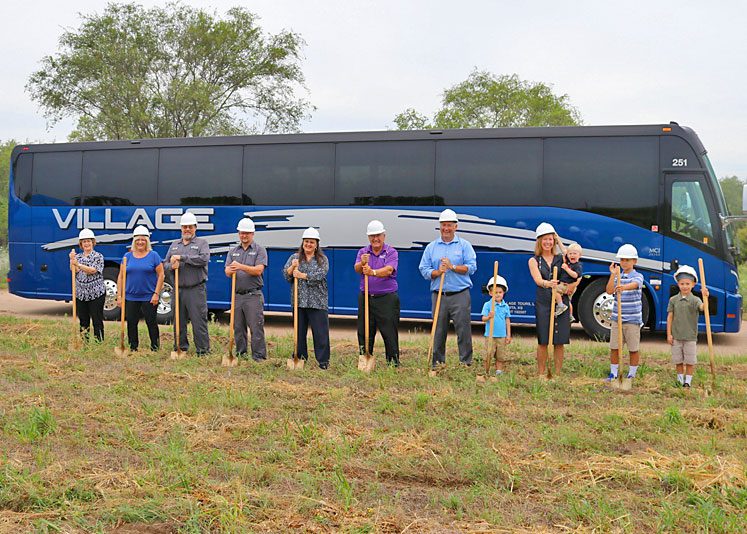 It is an exciting time in Wichita, especially at the location of K-96 and North Ridge Road.  Village Tours and Travel groundbreaking was August 8th in northwest Wichita.  They will be building a new, state of the art facility for their growing business.  Their new location will replace the current headquarters located at 8620 West 21st Street North which was built back in 1987.  In those days Village Tours was surrounded by wheat fields.  They had little to no traffic congestion as they entered and exited their location with charter buses.  Due to the continued community growth near 21st and Tyler coupled with Village Tours expanding to seven locations they have outgrown the current facility. The new building will have 13,200 square feet for offices.  The shop boasts 27,300 square feet which will include mechanic work bays, bus wash area, and a body shop with a paint booth.
Why did Village Tours and Travel choose Commerce Construction?  Teamwork and collaboration with the owners, architects SPT Architecture and Commerce's Project Management and Superintendent team of Rob Monson and Dusty Allred.  Along with this team, joining us at the groundbreaking ceremony were local officials and long time company employees.  Family members joined the celebration of this accomplishment for their locally owned family business.  We are honored to be on board for this project, you can read more here: https://www.kansas.com/news/business/biz-columns-blogs/carrie-rengers/article216187585.html
Contact us today to discuss how Commerce Construction Services can help you with your next project.